WRJ-Pacific District Convention
October 25-28, 2012
Click on any picture to see it fullsize
The last weekend in October was the Women of Reform Judiasm Pacific District convention in Portland Oregon. I took a 10am flight with Sue Cohen and Sue Sculler. We arrived at the hotel, checked in, picked up our registration packets, and then it was time for the orientation. Since this was the first Sisterhood convention for Sue Cohen and myself, we went to the orientation (although I'd been to quite a few AAUW conventions, so I was far from a newbie). It seemed like they didn't have a very good grasp of what a newbie would need to know, and I had to ask a bunch of questions.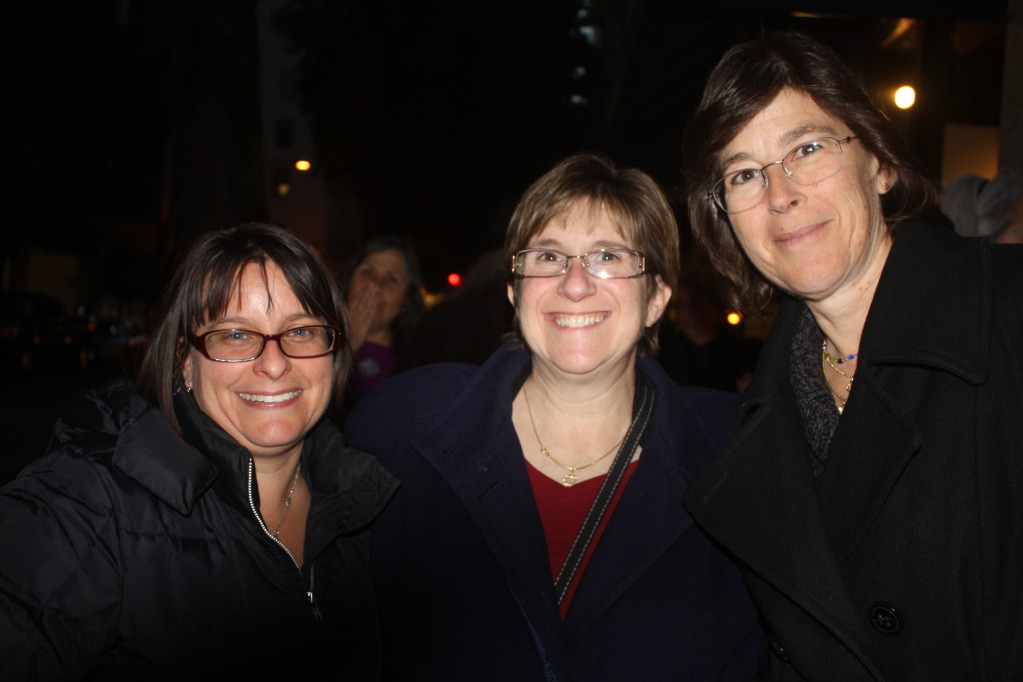 Afterwards, there was only a short interval before it was time for dinner at Mother's Bistro. At dinner, I met Freddie Goldberg and was impressed by her intelligence and competence. It was the first of many times that weekend that I would meet someone and be impressed. Portland has a famous doughnut shop, Voodoo doughnuts, which just happened to be two blocks from the hotel. After dinner, a couple of women wanted to check it out, so we walked over. I didn't buy anything – I was stuffed from dinner.
The hotel served free breakfast, and it was a full buffet with omelets, so I ate a bit more that my usual breakfast of yogurt and maybe a banana! We had workshops first thing in the morning, and I went to the one called "Funding your Sisterhood Dreams". It gave us quite a few ideas for fundraisers. One idea I liked was to have a B'nai mitzvah fair. You invite vendors who support B'nai Mitzvot (photographers, videographers, DJs, caterers) to set up tables. You make money by charging each vendor a table fee ($200?) for attending.
The next item on the agenda was the plenary session. Many people think of plenary sessions as dry and boring, but I found this one to be pretty interesting. For one of the proposed bylaws changes, a friendly amendment had been submitted (meaning that the submitters didn't expect any argument about the amendment). But then there was argument, so it turned into a regular amendment. And then there was debate. Several people spoke against the amendment, which I thought was a good one, so I spoke in favor of it. We voted, and it passed. They were combining changes on different bylaws items into a single vote, which I didn't think was such a good idea. I assume that they did this because they expected no opposition, and it speeds things up. But it means that if you oppose one change, you have to vote down one you don't oppose, and this confused people. The people sitting behind me were some of the confused people, so it was pretty clear to me that it was an issue.
It seemed like they had timed the plenary session assuming that there wouldn't be any opposition to the bylaws changes, and then when there was, the plenary ran long. So lunch started late. The theme for lunch was candy. Each table had a different candy scattered on the table. I thought that was a great idea. I'm surprised that more Bar/Bat Mitzvahs don't do candy as their theme. It's easy, pretty cheap and fun. We were assigned tables, so that we would meet new people. I thought that was a great idea too. I met Myra Gruschka, and was amazed to learn that, like me, she would be reading Torah for the Saturday services. What was the chance that we would end up at the same table?
Lunch was a fundraiser for the YES fund (Youth, Education and Special Programs.) I bought some raffle tickets for the Chinese auction (somewhat uncharacteristically, because I'm VERY risk adverse, so I usually don't do raffles.) The speakers were Lynn Magid Lazar (WRJ President,) David Berkman, and Rabbinical Student Keara Stein. I had heard Keara Stein speak last May at the YES fund tea in LA. The speakers spoke while people were eating to try and make up time. But when lunch ended, we were still behind schedule, and they had to cut the time for the workshops following lunch to get back on schedule.
After lunch I went to the "Leading with and not alone" workshop which was led by Rabbi Stephanie Kolin. She is an amazing powerhouse and if you ever get the opportunity to hear her speak, take advantage of it. Her answer to the question, "How do you lead with and not alone?" is "You have to listen to people and find out what their needs are." I think this advice is absolutely correct, but not so useful to me personally. While I'm great with numbers, reading people and hearing what they are saying beyond the words is something I struggle with. Plus I tend to forget anything I'm told unless I write it down. But it's still good advice, even if I will struggle to implement it. Now I need a workshop called "How to listen to people and really hear what they are saying"!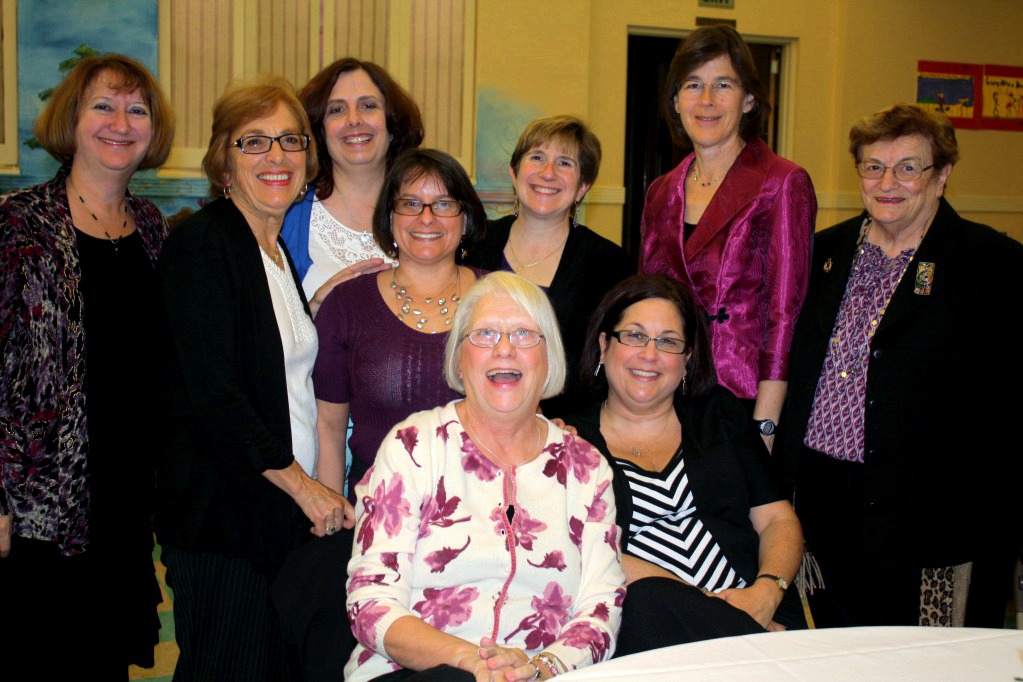 Shabbat Services were held at Congregation Beth Israel. They bussed us to the Temple, so we got a tour of downtown Portland. When we arrived they had snacks for us, since it was going to be a while before dinner. I met some women who were from Temple Beth Hillel, where my cousin attends, and of course they knew her, so that was fun. I checked out the gift shop, and while I didn't buy anything, there was a very cool paper lasercut 3-D dreidel that I admired very much. Before services, we all went to the sanctuary, and were given the history of the synagogue, which was built in 1859, replaced in 1888, destroyed by fire in 1923, and then rebuilt in 1928. It is considered one of the finest examples of Byzantine-style architecture on the west coast and it is magnificent!
During services, just before the Shema, the Rabbi told us about Anat Hoffman who had recently been arrested and mistreated by the police for "praying at the Western Wall while female." Women are not allowed to wear tallit or say the Sh'ma at the Western Wall. The Rabbi said that he wanted us to do something he had never asked congregants to do before. He asked us to take out our cell phones, turn them on, record the women of WRJ saying the Sh'ma, and to post the videos on Facebook, YouTube, wherever. He called this a "Sh'ma Smackdown." Women across the country did this to make the statement that we will not allow religious extremists to silence our voices.A video of what he said and of all of us saying the Sh'ma, is on YouTube. I'm in the video from 7:35-7:58.
After services, we had dinner at the Temple. They served Chicken Marabella, which is a personal favorite and it was pretty yummy. Except for Ellen, we TAS women all sat together. I think someone spoke during dinner, but I remember nothing about it. After dinner, they bussed us back. Erika, Sue and I were feeling like we wanted some exercise, so we decided to go for a walk around Portland. I wanted to go see Powell's books, so we set out. We found ourselves behind two women we didn't know who also wanted to walk, and until our paths diverged, we followed them, figuring that there was safety in numbers. We found Powell's books without difficulty – Man, is it huge! I showed Erika and Sue the "Heroes for my daughter" book that I had bought from Hicklebees at the beginning of the month. Then we got some advice from the bookstore clerk about the safest route back and returned to the hotel.
Saturday morning (after another enormous breakfast at the hotel) we had workshops and I went to "How do we get there from here? Strategic Planning for your Sisterhood." Some of the ideas from this workshop, included:
Doing meetings during TAS High or Wednesday night Hebrew High.
Going to Shabbatons and scoping out potential members.
Having the Temple collect the Sisterhood dues when they collect Temple membership dues.
Making a database of members – what they do, ages of kids, strengths, hobbies, connections, why they joined (or quit)
We also discussed ideas for getting feedback, like Survey monkey, Cards/evaluation sheets after events, Parlor meetings, and Phone calls.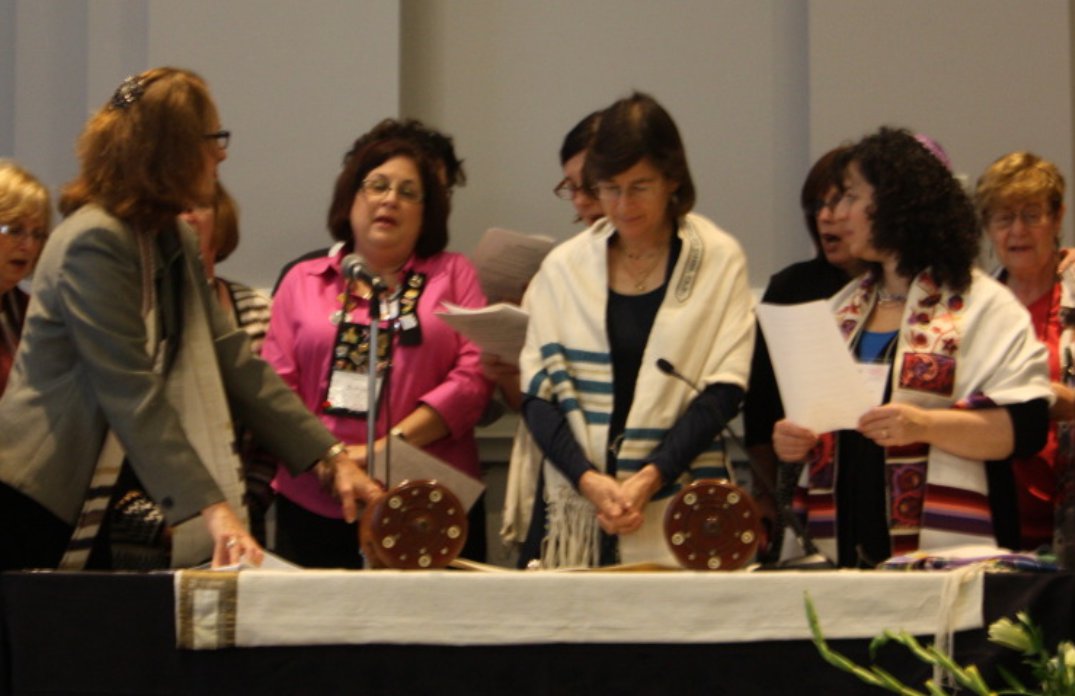 Next was morning services, which were at the hotel. Myra and I both did great reading Torah (she says modestly.) After services, we did a Sh'ma Smackdown redux and taped it, but I haven't seen that video. Lunch was again assigned seating, but I managed to finagle a seat next to Sue Cohen. I have very little memory of the speakers at lunch. We did have a gospel choir sing, and that was very enjoyable.
After lunch was more workshops. I went to "What if No One Shows up?" I chose this workshop more because of my disappointment with the number of people who come to TLC Sharim, than because of a specific Sisterhood concern. At the workshop I thought of the idea of coordinating with other synagogues and advertising through them too, but I haven't done anything with that yet.
After the workshops, there was free time, but there was Israeli Dancing available, so of course I went to that. I was hoping it would just be dancing, but they taught too. But that was OK, and a couple of people from our Sisterhood learned the dances and said that now that they know the dances, they would join in on the Friday night dancing on third Fridays.
Before dinner, they had Installation and Havdalah in the same room where we had services that morning. It was weird to do Havdalah sitting in chairs rather than standing with our arms around each other like we do at TLC Sharim. I think it would have been better to do Havdallah standing in concentric circles, and then move into the room with the chairs for the installation. Next was appetizers and the marketplace (for an hour and a half – it was a little long) followed by the Gala. At the Gala I won one of the silent auction items – wine and chocolate – yum! Then I realized that I couldn't take the wine on the plane! It just meant I had to check my luggage, so it wasn't that big a deal, but I hadn't considered that when I dropped my ticket in the bag.
The entertainment at the Gala was Susannah Mars, who is a singer. To describe her, I would quote Marc's grandmother, "It's good if you like it!" The genre of songs she sang was not my cup of tea. She did sing one really funny song about a hundred ways to lose a man "The first way to lose a man/ You've met a charming fellow and you're out for a spin/ The motor fails and he just wears a helpless grin/ Don't bat your eyes and say, 'What a romantic spot we're in?'/ Just get out, crawl under the car/ Say it's the gasket and fix it in two seconds flat with a bobby pin/That's a good way to lose a man."
After dinner, several of us didn't want our last night to be over so soon, so we went to the bar in the hotel. Not that we were all that interested in drinking, we just wanted to hang out together and not let things end quite yet.
Sunday morning, I woke up and discovered I could not bend over. I don't know what did it, but my back was totally tweaked. The bed was too soft? I have no idea. Fortunately, it (mostly) didn't hurt to walk or sit, just to bend. So I didn't bend! At the free hotel breakfast, it occurred to me that if I took an English muffin, some of peanut butter packets some jelly packets and some fruit, I would have lunch for the plane. So I did. The morning workshop was "Succession Planning: How to Prepare for Tomorrow while Leading Today." At this point all the workshops were starting to run together. I picked up some more publications from WRJ – "Stronger Together: A guide for Sisterhood Presidents," "Programming Possibilities" to add to the "FUNdraising FUNdamentals" that I picked up earlier.
Then we had a second plenary session which went much smoother (less discussion) than the day before. Rabbi Kolin spoke, and again she was amazing. She talked about how we had spent a lot of time talking about where we had come from – we had talked about WRJ history, WRJ PD history, the history of the Temple. We needed to talk some more about where we were going and how we were going to get there. I felt like she was scolding us and also felt like she was totally right. We all just ate it up. That's how good she is. They took care of some final administrative details and then it was over.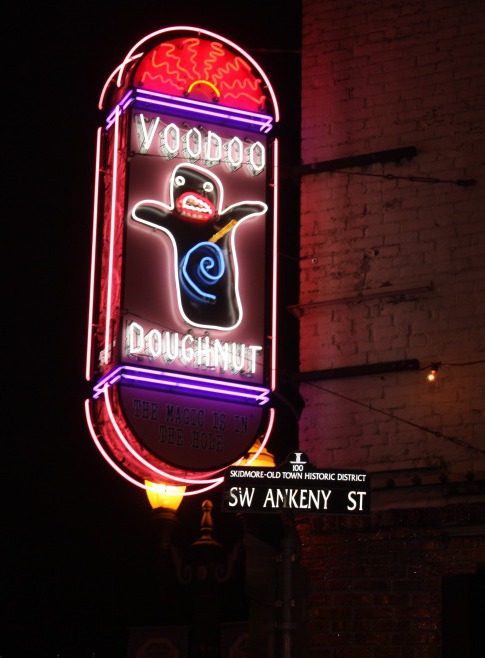 Both Sues had promised doughnuts to family and friends, so even though it was raining, off we went to Voodoo Doughnuts. We had about 45 minutes before we needed to catch a cab to the airport – the shop's only two blocks away, so that should be plenty of time, right? When we arrived at the shop we found a 45 minute line outside the shop – in the rain! Wow! Are the doughnuts really THAT good? I think the Sues were willing to pass on the doughnuts, but they were not willing to face their disappointed family and friends! We traded off waiting in line and going back to the hotel to bring stuff down and check out so that the instant we had our doughnuts, we could hop in a cab to the airport. Since I was not buying doughnuts, I waited with the bags in the lobby while Sue and Sue went back and forth to the rooms and the shop.
We arrived at the airport with not much time to spare, but before boarding, so that was fine. At one point, both Sues were obtaining lunch and using the restroom and I ended up all by myself with all the doughnuts. The other people waiting to board tried to convince me to pass them out, but I declined, much to their disappointment.
What a whirlwind of days! The convention was a one event after another with very few breaks in between. Not that this surprised me; if I were planning a convention, that's exactly what I would have done. There was still time to socialize – mostly at meals, and late at night. I was impressed by the caliber of women who attended (not too surprising, since most of the women who attend hold leadership positions in their Sisterhood.) Yet I worry that I didn't take away enough from convention to justify Sisterhood's investment in my going, despite the fact that the only thing I passed on was the early morning Nia (exercise) and late night MahJongg sessions. Perhaps if I had attended the Nia sessions too, I wouldn't have gained three pounds!
All-in-all, I was glad I went. The high point was definitely all the smart capable women I met. The low point for me (other than my back going out!!) was probably the Gala entertainment; although I'm sure others liked it just fine, it wasn't my taste. I look forward to attending the next one in two years, which will be in Pasadena-yea!