Zev Vacation 2004
<![if !supportEmptyParas]> <![endif]>
I thought it would be fun if I recruited the kids to provide some perspective on what was important and fun on our vacation. So you will find each day related twice. Once by yours truly (who can't leave the telling to someone else), and again by one of the boys. It's humorous to see what they left out – and what I did! In the boys' section, I wrote down what they said virtually verbatim (I did replace a bunch of "and"s with periods for ease of reading.) I sometimes added my own clarifying notes in [square brackets].
<![if !supportEmptyParas]> <![endif]>
You can click on the pictures and see a larger version.  If the picture doesn't fit on the screen, make the window narrower.
<![if !supportEmptyParas]> <![endif]>
Here's the map of our trip. We did the loop counterclockwise. The squares indicate places we spent the night, and two more places we didn't spend the night to make the path come out right. The squares are Lake Havasu City (2 nights), Grand Canyon NP (3 nights), Wupatki NM, Flagstaff (1 night), Gallup(1 night), Mesa Verde NP, Durango (2 night), Page (1 night), Springdale/Zion NP (1 night) and Las Vegas (1 night). If I were to do the trip again, I would shift one of the Lake Havesu nights to a Zion night, but otherwise, the amount of time in each place worked well.
 <![if !vml]>

<![endif]><![if !vml]>

<![endif]><![if !vml]>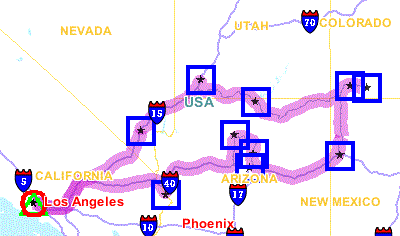 <![endif]>
+++++++++++++++++++++++++++++
Sat 7/24 (Jackie) – Left LA ~2:30. Kids immediately stuck their noses into their Gameboys and didn't come up for air until we pulled into Lake Havesu City @7pm. Well, to be fair, Jonathan did take a break when his hand started hurting. Dinner in Lake Havesu City reminded me of one of the benefits of living in LA; no smoking in resturants. Although no one was smoking in the restaurant, it was clear that it was NOT a no-smoking establishment. Yuck. Benjamin and I split a ribs & shrimp combo – that boy has developed some expensive tastes!
<![if !supportEmptyParas]> <![endif]>
Sat 7/24 (Jonathan) – The first day was pretty much doing stuff in the car. Then we got to the hotel and went out to dinner. Then we played a game of Cinq-o. Jonathan won. Daddy came in last.
+++++++++++++++++++++++++++++
Sun 7/25 (Jackie) - Lake Havesu was hot hot hot! 109° is hot even by San Fernando Valley standards. So, on Sunday, we passed on the outdoor activities and went bowling. After lunch, we hung out in the motel room, playing games, reading and napping. After dinner (Benjamin wanted clams and macaroni and cheese), we went to see the London Bridge and then walked along the lake. We came back to the motel and went for a swim in the pool. The (unheated) pool was in the high 90's. A thunderstorm was coming – we could see the lightning in the distance and the winds had kicked up. Marc stood up in the pool and commented that his head was warm (because it was dry), his chest was cool (because of the wind) and his legs were warm (because of the water). At midnight, a huge crash of thunder woke Marc and Jackie. After a few more crashes, the rain started with a vengeance. Jackie remembered that the back windows of the van were open a crack, so she went out to close them. This was a good thing, because water was already dripping down the inside wall of the van when she closed the windows!
<![if !supportEmptyParas]> <![endif]>
Sun 7/25 (Jonathan) – The next day we had cereal for breakfast. Then we went bowling and had lunch. Then we came back home and played a couple of games including Quiddler, Pitch 6, and Set. Then we had quiet time. Actually Quiddler was after quiet time. Then we went to dinner. When we came back we played WarP. Then we went swimming. No, we played WarP after the swimming. Then we went to bed and I annoyed Mommy a lot. Then there was a thunderstorm, but Jonathan and Benjamin didn't wake up. Then in the morning, Jonathan found out that somehow in the night his underwear fell off. Then we had breakfast and left for the Grand Canyon.
+++++++++++++++++++++++++++++
Mon 7/26 (Jackie) – We left for the Grand Canyon first thing in the morning (9 am) – this is vacation, after all! The rain from the night before had stopped and it was completely dry out. We had lunch in Williams, and bought some postcards. After an (unsuccessful) attempt to get internet access at the local library (it was closed) and a (successful) attempt to get stamps at the local post office, we went on to the Grand Canyon, pausing at a deer farm that was (sort of) on the way, but skipping the airplane museum (we let the boys decide in both cases). We arrived at the Grand Canyon ~3 pm, but were told we couldn't get into our rooms until 4. We hung out at gift shops in the area for an hour and then still couldn't get into our rooms, so we went to Canyon View Information Plaza. After a while it started to rain, so we came back, got into our rooms and had dinner. The rain deterred us from any evening program, so we played Set and Scrabble in the room instead.
<![if !supportEmptyParas]> <![endif]>
Mon 7/26 (Benjamin) – We fed the deer. I liked how all the deer ate and how they herded over to you. And sometimes the deer didn't eat all the food. The only problem about the deer farm is that it gets your hands all muddy. The parrot [he meant cockatoo] would talk to you and say weird things. There's also a little compartment that the coatimundis could go through with a doggy door to the outside (but there's a fence so they couldn't get out of the cage.) There's also a llama that we took a picture and miniature horses. We talked to a cockatoo – the parrot was snoozing. The store had a few things I liked but we didn't buy them.
<![if !vml]>
<![endif]> <![if !vml]>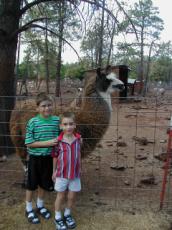 <![endif]> <![if !vml]>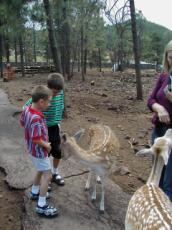 <![endif]>
<![if !supportEmptyParas]> <![endif]>
 <![if !vml]>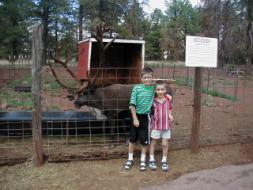 <![endif]> <![if !vml]>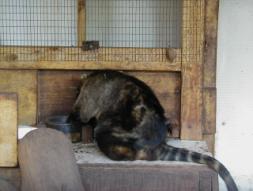 <![endif]>
Then we drove in the car and the boys played Gameboy. We got to the Grand Canyon National Park. We started a Junior Ranger book. Then it started raining.
+++++++++++++++++++++++++++++
Tues 7/27 (Jackie) – We packed a picnic lunch, took the shuttle to the farthest point we could, and started walking back along a trail that runs at the edge of the rim of the canyon for the most part. We went about 2 miles and had lunch. Then another mile and Benjamin was done – but we had to go another mile to reach the shuttle pickup!
<![if !vml]>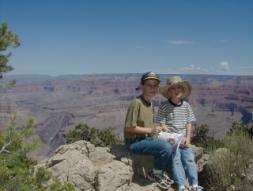 <![endif]> <![if !vml]>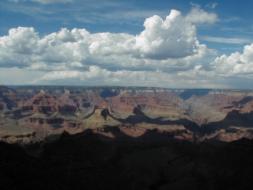 <![endif]>
On this trip, we had our first mishap of the trip – Marc's leg had an unpleasant encounter with a rock and got something more than a nick and less than a gash (would that be a gick?) We took the tram back to Bright Angel lodge and had ice cream. Then we hung out until 4, when a ranger spoke about condors. I knew all about the reintroduction program in California, but hadn't realized that they were reintroducing condors to the Grand Canyon too. Apparently there are 44 condors in the Grand Canyon, including a couple of chicks born in the wild. Very cool. Well the best part of the entire talk was that at the tail end of it, a condor (#46) swoops right in and lands on a ledge several hundred feet from where we were. While the sun was out it spread its wings and sunned itself and even after clouds hid the sun, it hung out for us to gape at it. The ranger had a scope, and I took some pictures through the scope using the digital camera. The Condor talk was the final thing that needed to be completed for the boys' Junior Ranger Program, so after the program, the Ranger had the boys take the Junior Ranger pledge and gave them their Junior Ranger Badges.
<![if !vml]>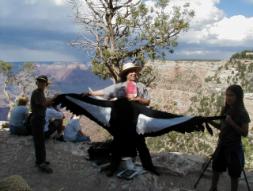 <![endif]> <![if !vml]>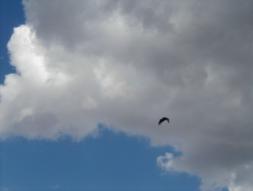 <![endif]>
That's Jonathan on the left.
<![if !vml]>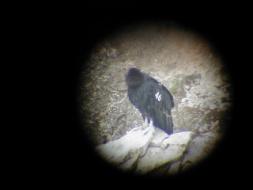 <![endif]> <![if !vml]>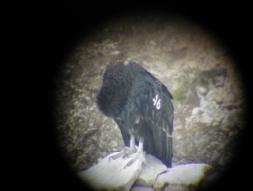 <![endif]>
It turns out that the condor in my picture is a juvenile male, born 4/29/01, released 2/16/02. (see The Peregrine Fund) We then went to Kolb studio where there was an exhibit of pictures of Navajos (Navajoes?) When we started to return to our room, our departure was delayed by the appearance of 4 condors. Condors might be ugly as sin, but it's hard not to be awed by a bird with a 9 foot wingspan! As we were leaving it started to rain, so rather than go back to the room, we went to dinner. After dinner, we again eschewed the evening program because of the rain, and had fun with the puzzle books we had brought.
<![if !supportEmptyParas]> <![endif]>
Tues 7/27 (Benjamin) – First we went on a tram. Then we went on a hike – a very LONG hike! On the hike we sang, "The ants go marching" and "100 bottles of beer on the wall." We had lunch on the hike. Then we went to the Condor talk. We saw a condor. We finished our Junior Ranger books, so we got a badge and a certificate. Then we went to a bookstore [Kolb studio] and got a patch. The bookstore had more than books. Then we had dinner and went into our cabin.
+++++++++++++++++++++++++++++
Wed 7/28 (Jackie) – We decided to hike the Bright Angel trail. This trail goes to the bottom of the canyon (about 8 miles), but we just planned to hike down for an hour and then come back up. We packed lunch, and more water than the day before, since this was not a flat hike like yesterday's. We reached the trailhead just before 10 am.
<![if !vml]>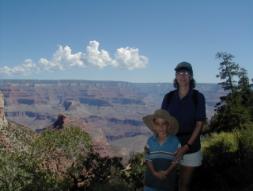 <![endif]> <![if !vml]>
<![endif]>
The weather was nice – not hot at all. On the way down, we met people hiking up the trail who had started at the river. They had started hiking at 6 am! You have to start hiking from the river early to avoid the heat. It frequently gets into the hundreds in the canyon. The short distance that we hiked cured me of any desire to hike from the river to the rim! This hike was stressful for two reasons. First, it didn't take long at all for the boys, particularly Benjamin, to start complaining. Finally we got him started on "A is for cookie." This song has 26 verses – one for each letter of the alphabet, and while he was singing, he couldn't complain. Second, there's no rail and it frequently has extreme drop-offs right on the edge of the trail, which Benjamin was not nearly cautious enough about for our tastes.
<![if !vml]>
<![endif]> <![if !vml]>
<![endif]>
After an hour, we hadn't gone very far – we hadn't even made it to the rest stop that was a mile and a half down the trail – but the descent had been pretty steep, and with thoughts of all the grumbling we were going to hear on the way up, we turned around. However, we were amazed to find that we made the trip up in only 40 minutes. The song had cured Benjamin's grumps. When we got back to the rim, we ate lunch, and then went off to Yavapai Observation Station to hear a ranger talk about the geology of the canyon. The ranger was very good. He peppered his talk with yelling, throwing rocks (at the ground) and references to trees as "crummy rock-hiding plants"; all of which amused the kids greatly and made a rather dry topic much more interesting.
<![if !vml]>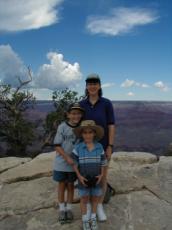 <![endif]>
Now we were all pretty beat, so we went back to the room to rest a little. After a game of Yatzee, we headed out to Powell memorial point to watch the sunset. We saw condors again. We hung out at Powell for a while, and then walked over to Hopi point, which is supposed to be the best place for viewing. We had fun trying to decide what shapes the shadows made. This activity occupied the boys for well over an hour, a fact that amazed Marc and Jackie.
<![if !vml]>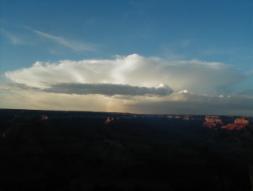 <![endif]> <![if !vml]>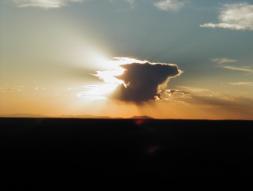 <![endif]>
For the first day in three days, there was no rain this evening. Yea! We took the tram back to Bright Angel Lodge, and had our second mishap of the trip. On the walk from the tram stop to the lodge, the boys were clowning around and Jonathan grabbed Benjamin's nose hard enough to give him a nose bleed (easy to do in the high mountain air.) Fortunately we had plenty of tissues. When we got to the lodge, we discovered that there was a long wait for dinner even though it was already 8pm. So we just went back to the Village and ate in the cafeteria. We had planned to go to the ranger talk this evening, but by the time we got back and had dinner, it was too late.
<![if !supportEmptyParas]> <![endif]>
Wed 7/28 (Jonathan) – We started the day with a hike down Bright Angel Trail (after finishing the Lucky Charms.) We went through the "Alphabet is for cookie" song. After we sang the cookie song and after we came to an arch on the trail, we came back. We took less time coming up than going down. After lunch, we listened to a very funny ranger talk where we learned what makes the Grand Canyon grand is two words: "large pretty" - or four words: "immense proportions beautiful scenery." He kept screaming out something. He said there is only 1 Grand Canyon and 49 Grand Canyon wannabees. Then we walked back to our room. Then we played Yatzee and I won and Benjamin was OK with that and we creamed Mommy by getting 2 Yatzees when Mommy only got one. Then we went to Powell point and walked to Hopi point and watched the sun setting. We got to make shadow shapes, which was very fun. Then after a long wait we had dinner.
+++++++++++++++++++++++++++++
Thurs 7/29 (Jackie) – This was a very stop-and-go day. First we went to Mather point for one last look at the Grand Canyon. Next stop was the Tusayan ruins. With its small (tiny) museum and short walk around the ruins, we didn't stay long. Next stop was the Little Colorado River Gorge, an offshoot of the Grand Canyon. It was pretty and we took a nice picture of the boys sitting on the edge.
<![if !vml]>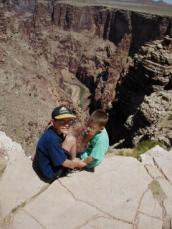 <![endif]>
Then off again. Lunch in some tiny town on the road: Ash Mountain – good thing we didn't blink or we'd have missed it. We did have the biggest scare of the entire trip here. We received a phone call from my mom saying that, on Tuesday, our housekeeper had misunderstood the message we left her to replace the barricades that prevented the dog from going upstairs. Instead, she had replaced the barricade that prevented the dog from going *outside* – it was now Thursday! Fortunately for us, when the neighbor boy who was feeding the dog couldn't get him to come out and play on Tuesday, he contacted his mom, (with whom we had left a key to the house) and they figured out what had happened and let the dog out. So we didn't have a starving dog and a house full of poop. Whew! After lunch, we went to Wupatki National Park, which contains a bunch of pueblo ruins. Each one was home to a couple dozen people when it was active. We visited some, skipped others, as the mood took us. Then we went to Sunset Crater. We were disappointed not be allowed to go to the rim, but there was a video at the visitor center, so we got to see what it looked like. The lava flow was interesting. Then on to Flagstaff. We checked into a hotel, but didn't go to the room. After dinner, we wanted to check our email, so we went to the local public library. Internet access cost money there, but there was free access at Northern Arizona University, so we went to the University. Then when we got back to the room, we discovered that they had high speed access in the room. Oh well. At least by going to the University, both Marc and Jackie could get on in parallel rather than serially. Flagstaff was a nice town. We were impressed by it. It had a modern, college feel to it, rather than the old, desert feel that some of the other towns had (like Gallup).
<![if !supportEmptyParas]> <![endif]>
Thurs 7/29 (Jonathan) – First we got our souvenir, Diver the red-tailed hawk that screams. Then we got on the road. We went to a museum that talked about Indian culture and got to see these ruins. It had porta-potties that flushed (except Benjamin's didn't flush.) We came to a part of the Grand Canyon where it looked like we were sitting on the edge of the canyon. We took a picture to terrify the grandparents. We had lunch in the middle of nowhere. It was really hot that day. Then more Indian ruins. Then even more Indian ruins. We took a picture of Benjamin in a room of one of the pueblo ruins. I read the book, "There's a hair in my dirt" in the visitor center. Benjamin read, "Critters from the Southwest." Then we went to Sunset Crater and learned about aa and pahoehoe [both types of lava flow.] We had fun at that visitor center, even though we couldn't make an earthquake [the exhibit was broken.] We went to Flagstaff and had dinner. Then we went to a couple of libraries and I finished my book. I gave Mommy a math problem which she solved. We came back to the room and found that it had internet access.
+++++++++++++++++++++++++++++
Fri 7/30 (Jackie) – We got continental breakfast this morning. A nice change from the cereal we had been eating up until now. Then off for Meteor crater. We could go to the rim of this crater. This crater, being run by private enterprise rather than the National Park service, had a somewhat commercial feel to it as you came up, but the museum is very well done. Many interactive exhibits that the kids loved. Their favorite was one where you could pick the size, velocity, speed and angle of a meteor and see what kind of a crater it would leave. They quickly discovered that you could create a meteor that would destroy the earth, and did that repeatedly. After we left Meteor crater, we went to the Petrified Forest. One friend, upon being told that we were going there responded with, "Why would you go there? It's just a bunch of rocks that you can't take with you." We didn't understand this response at the time, but now we do. Was it unreasonable of me to actually expect there to be a forest at the Petrified Forest? Well, I wasn't the only one to make that mistake. No, there's no forest there. In fact, there's no (living) trees at all. Not one. In fact, there's hardly any plants that even reach your knee. In fact, there's hardly any plants at all. It's one of the most desertish deserts I've ever seen. It makes many deserts in California look almost tropical (OK, well, maybe not quite tropical, but you get my point.) It used to be a forest about 225 million years ago. That's were all the petrified wood came from. I guess the people naming the place thought that more people would come if they called it the "Petrified Forest" than if they called it the "Petrified Logs in the Desert" or the "Petrified Xeroscape." Plus it's shorter. Anyway, my expectations of what I would find there might have been completely wrong, but I still found the place very interesting. There are more different colors of dirt and rock there than I ever imagined would be in one place. There are hills that are red at the bottom, black in the middle and white at the top. Or brown then red then black. And lots of other combinations. The petrified logs are gorgeous, especially when polished. It's just amazing to see all these rock logs lying around all over the place. We also had some side fun on one trail we went on. When the boys got hot and a little bored, I noticed these markers embedded in the trail. We figured out that there was one every 100 feet. So we tried to figure out how many steps we take in 100 feet. Turns out that the adults take about 40 steps in 100 feet and the boys take about 50. That held the boys interest all the way back to the car; about 2100 feet, or 1050 kid steps. There were petroglyphs at the Petrified Forest too, which were interesting, if a bit hard to see, because you had to look through a telescope. (That's one way to make sure people don't damage the petroglyphs – don't let them anywhere near them!) There was also another pueblo ruin, but the boys had had enough of pueblo ruins, and it was just too hot! Most National Parks and Monuments have Junior Ranger programs, and this was no exception, so the boys did the Petrified Forest Junior Ranger program, and got badges again (no patch this time.) Then it was on to Gallup, where we spent the night.
<![if !supportEmptyParas]> <![endif]>
Fri 7/30 (Benjamin) – The meteor crater was huge. We could make craters. There was a movie that told you about Meteor Crater. Then we went to the Petrified Forest. We went on a walk on a path with dots in the ground and the [numbers on the] dots kept getting smaller.
<![if !supportEmptyParas]> <![endif]>
Fri 7/30 (Jonathan) – At the Petrified Forest, we found out how long our foot lengths were by counting them.
+++++++++++++++++++++++++++++
Sat 7/31 (Jackie) – We left Gallup, taking 491 north through the Indian Reservation. Why is this significant? Because the speed limit is 75 on I-40, but it is only 65 on 491, the Indians have set up a nice little speed trap, and make lots of money ticketing people like us who don't realize that 491 has a lower limit. The officer gave us a choice of a Navajo ticket or a New Mexico ticket. That seemed odd, (that we would have a choice.) At least the ticket was only $54. We arrived at Mesa Verde without further incident at lunch time. My first reaction was that there was a lot to see at Mesa Verde and we had not allowed nearly enough time for the place. Mesa Verde has mesa-top pueblo ruins and cliff dwellings. To see the cliff dwellings, you need to book a tour, so our first stop was at the visitor center to arrange a tour. We signed up for two tours. After lunch, we went to the museum, and the boys filled out the booklet to get another junior ranger badge. The first tour was of Cliff Place, the largest cliff dwelling.
<![if !vml]>
<![endif]> <![if !vml]>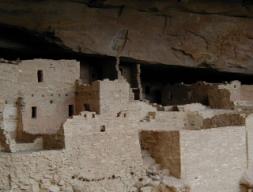 <![endif]>
They believe this dwelling was used primarily for ceremonial events (there were only smoke marks on a few of the rooms.) This tour caused us some consternation at the beginning because the boys were standing near the front of the group (of about 50) while we were near the back. This would have been fine, except the tour guide let them go through the gate at the beginning, without tickets and without even noticing them, so by the time we got to the gate, we couldn't see them at all. We assumed they had already gone through, but we didn't know for sure. The tour guide suggested that one of us remain behind just in case, but we decided to trust our instincts and go ahead. Sure enough, they were waiting for us at the place where the group is supposed to gather and wait for the guide. The other tourists informed us that Jonathan had appointed himself leader and they had all dutifully followed.
<![if !vml]>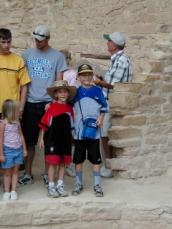 <![endif]> <![if !vml]>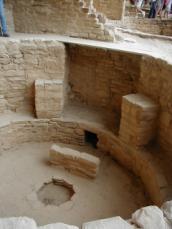 <![endif]> <![if !vml]>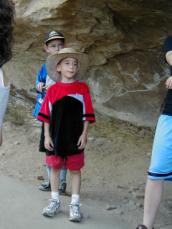 <![endif]>
Our second tour was called Balcony House. This cliff dwelling had clearly been lived in. Both tours involved climbing up wood ladders and steps carved in the rock.
<![if !vml]>
<![endif]> <![if !vml]>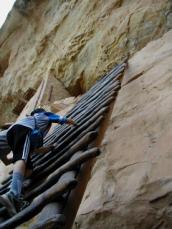 <![endif]> <![if !vml]>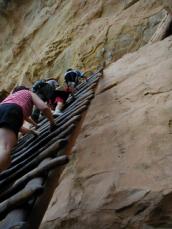 <![endif]> 
<![if !supportEmptyParas]> <![endif]>
 <![if !vml]>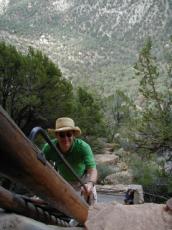 <![endif]> <![if !vml]>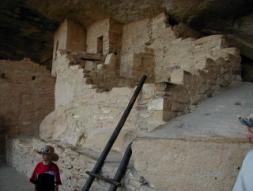 <![endif]>
The second tour ended with a hands-and-knees crawl through a 12-ft tunnel. Both tours were very interesting and we were glad we went on both. Jonathan was especially pleased that he was chosen to help the ranger on the second tour. We went back to the museum so the boys could turn in their books and take their (third) pledge to become junior rangers. The ranger giving the boys the pledge included a bit about pledging not to annoy their brother, which the boys said after a momentary hesitation. However when the ranger included a line about cleaning their rooms, both boys stopped cold and didn't utter a word. The grown-ups had a good laugh over this, and then the ranger went on with the pledge.
<![if !vml]>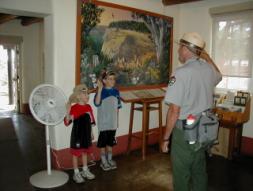 <![endif]>
After seeing the cliff dwellings, we realized that we hadn't seen any of the mesa pueblo ruins, so on the way out, we stopped at the Far View community and wandered around those ruins for a bit. An archeologist might have disagreed, but to us, they were pretty similar to pueblo ruins we had seen on other days. I left feeling like there was more to be seen, but that the sample we had seen was very representative of what Mesa Verde had to offer, and also that the boys wouldn't have had the patience to see much more even if we had allowed more time. They're pretty bored with Indian ruins. We then headed on to Durango, stopping in some small town along the way for dinner. Upon arriving at the motel I had selected from the AAA book in Durango, we were told that they had a room for Saturday night, but they were booked solid for Sunday! But after a moment, the clerk offered to put us in a room with three queen beds, the third bed in a separate room, for the same price he was going to charge us for one room. Have two rooms? It did not take us a moment to agree! We gave the boys the second room, which excited them very much.
<![if !supportEmptyParas]> <![endif]>
Sat 7/31 (Benjamin) – I had toast with yogurt for breakfast. I'll just skip to the part where we went to a National Park. We went to an Indian National Park. Jonathan got two badges, one to use and one to lose. Jonathan was the leader in a cliff house. My favorite part was Balcony House. Then we had dinner and went to our motel.
<![if !supportEmptyParas]> <![endif]>
Sat 7/31 (Jonathan) – Benjamin and I got lost and found again. I asked some good questions and gave a funny answer.
+++++++++++++++++++++++++++++
Sun 8/1 (Jackie) – The first thing that happened was that we discovered that when the clerk had opened the door to the kids room, he hadn't unlocked it. Because we had closed it, we now couldn't get in to wake the kids up! Fortunately, they are light sleepers in the morning, and we didn't have to knock very loudly to wake them. We went on a raft trip down the Animas river, which was fun, despite being a bit tame because the water level was pretty low. We then changed into long pants and were transported via van to Silverton. We had lunch and wandered around Silverton for a while (and spent a bunch of money on stuff.)
<![if !vml]>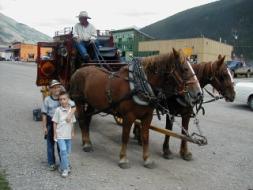 <![endif]> <![if !vml]>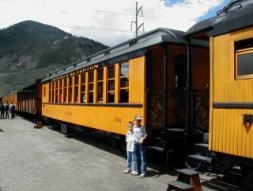 <![endif]>
<![if !supportEmptyParas]> <![endif]>
<![if !vml]>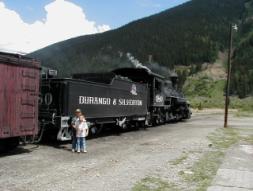 <![endif]> <![if !vml]>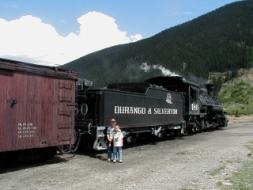 <![endif]>
Then we took the train back to Durango. The train trip was 3 ½ hrs, and I had brought lots of snacks and stuff for the kids to do. I even brought the Game Boys, although we never took them out. The boys were completely uninterested in watching the scenery go by. I taught them a new solitaire game, which held their interest for quite a long time. Then we played Scrabble. That used up most of the remaining time. Marc experienced the third mishap of the trip. He had been resting his arm on the back of the seat, and when went to move it, he found that his bare arm has stuck to the vinyl. Later, when we looked at his arm, we saw that the inside of his arm was all black and blue where it had stuck to the seat. And Marc almost never bruises. The train trip is a mixed bag – if I'd been by myself, I could have probably just sat and watched the scenery for the entire way without getting bored, but the train has a coal engine pulling the train. If you are in an open air car, like we were, you breathe soot whenever the wind isn't blowing it away from you, which is way too often. You get soot all over your self, your clothes, and your stuff, and many of the bars are sooty, so if you rest your hands on them, you get soot all over your hands, which then readily transfers to your book, your clothes, and whatever else you touch. Benjamin, who is very sensitive to loud noises, also had a hard time with the train whistle. When we got back it was 6:15, so we went looking for a place for dinner. Marc had seen a BBQ and pizza place on main street, so we started walking. After 6 or 7 blocks we hadn't found it, so we crossed the street and started back. One restaurant looked like the food would be really good, but it didn't look like there would be anything Jonathan would eat. We were just about to move on, when the hostess came out. She mentioned that they had a kids menu and named something Jonathan would eat. So we went in. Boy, were we happy that she came out! That was the best meal we had all trip! First we ordered an appetizer of fried wontons filled with crabmeat and shrimp. These turned out to have large "wings" that didn't contain anything on either side of the center body. We were humored to find that Benjamin did not like the wings, but happily consumed the middle. Marc and I split halibut stuffed with crab and horseradish and then we split a carmelized praline shell filled with white chocolate mousse topped with fresh fruit and drizzled with chocolate for dessert. Boy, were we glad we didn't find the other restaurant, which, as it turned out, was in the next block when we turned back.
<![if !supportEmptyParas]> <![endif]>
Sun 8/1 (Jonathan) – We went water rafting and it was lots of fun. Benjamin and I dangled our feet in the water, but no one else did. There was rapids and no one fell off, but in the other raft someone did [not during the rapids part.] There was a big rock that we bumped into that we called "rockberg" and there was a big drop that we called "the bigdrop." Then we took a 1-hour van trip to Silverton. Then we had lunch and Mommy left her purse at the restaurant, but she got it back. We saw someone weaving on a loom and learned about the flying shuttle. That was very interesting.
<![if !vml]>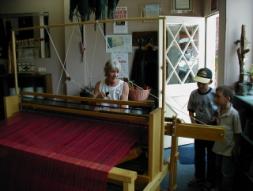 <![endif]> <![if !vml]>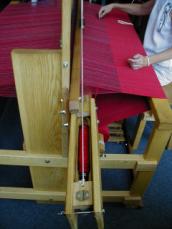 <![endif]> <![if !vml]>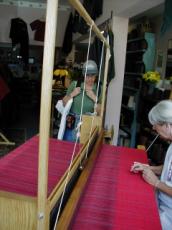 <![endif]>
Benjamin got ice cream. [Flavor was "Blue Moon" – fruit loops.] We looked at a couple shops and bought a couple things. We took a 3-hour train ride back. We learned a new way of playing solitaire. We tried to play Pitch 6, but it didn't really work. Then we played travel scrabble. We each got 260-something points. I won. We were joking about a bonus. The train stopped a couple of times. After the scrabble game we were almost there. We played some more solitaire. The train was very dirty and there were a lot of moths. When we got to the station we all washed up. The water started acting strange. It got cold and then warm again. Benjamin didn't get washed all the way. The restaurant we went to had the man [waiter] who was the college student. We had a very good dinner – at least Mommy and Daddy did. Mine was more questionable. [We asked what cheese they had used in his grilled cheese sandwich – the answer was that it was a combination of cheddar, parmesan, and Cheese Wiz®!] We went back to our room and went to sleep.
+++++++++++++++++++++++++++++
Mon 8/2 (Jackie) – We had planned on taking a tour of the Durango Chocolate Factory, but the tour was completely booked. Since we didn't want to wait a day just for the tour, we had to skip it. About an hour out of Durango, we found a reptile place. They had a rattlesnake pit with about 200 rattlesnakes in it and a man poking and proding them to show them off. The man would show how the snakes strike by moving his had near the snake to provoke it. Don't try this at home! They use chicks to feed the rattlesnakes, because the places that raise chickens don't want the male chicks, so the reptile place can get them cheap. There were also some turtles, some (small) alligators, a corn snake (that the boys got to hold) and some miscellaneous lizards. It was nice.
<![if !vml]>
<![endif]> <![if !vml]>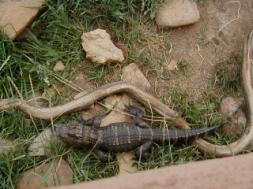 <![endif]>
<![if !supportEmptyParas]> <![endif]>
<![if !vml]>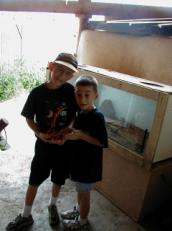 <![endif]> <![if !vml]>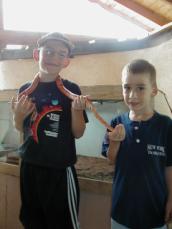 <![endif]>
Then it was off for Four Corners. We paid the small fee to be allowed on the site, took the obligatory pictures, looked at all the stuff for sale and left. We had lunch in Mexican Waters, which consists solely of a gas station, restaurant, and Laundromat. Then, on to Page, AZ. We stopped at the visitor center to see what there was to do in Page. We decided that the boat trip to Rainbow Bridge was too expensive (~$100/person,) too long (most of the day) and too difficult (the water level is too low to get all the way there, so you have to hike in a mile.) We also decided the plane trip to Rainbow Bridge was too expensive (it's actually cheaper than the boat trip, but not much!) Since the only other way to get there is a 9 mile hike, we decided that Rainbow Bridge was not in the cards this trip. Boy was I glad we decided that, because if we had gone to Rainbow Bridge, we would not have done what we did instead. Instead we signed up for a trip to Antelope Canyon. Antelope Canyon was gorgeous. More about that tomorrow. Then we went across the street to the Powell museum. This museum mostly focused on Powell's trip down the Colorado River, and it also has a plesiosaur skeleton that was excavated in the area. The museum was tiny but nice. It gave the boys and I the opportunity to actually grind corn using a mano and metate, like the Indians used to do (I hope they don't anymore – it's hard!) They also had a mortar and pestle, which I found slightly easier, because the corn stayed in place better. In Page, the brakes on the van started grinding and squealing. This concerned us, particularly because we had just replaced the front brakes before we went on the trip. We tracked down a mechanic, who was very nice, took a look at the brakes (even though it was after closing), told us they were fine, and didn't charge us. The brakes mostly stopped making noise after that.
<![if !supportEmptyParas]> <![endif]>
Mon 8/2 (Jonathan) – At the Chocolate factory, both of us got things we didn't finish. At the reptile place, I got a snakeskin. I got to hold a corn snake. We learned a lot about rattlesnakes. I scared Benjamin with a toy snake [Benjamin says, "No, you HURT me with a toy snake!] There were two dogs and two birds and they were NOT reptiles. One of the snakes was shedding. We went to Four Corners. I went to Utah for the first time. I was in four states at once. We looked at all these things. We took pictures. Jonathan and Benjamin took pictures. Mommy went on Four Corners, but Daddy didn't. Mommy was the only one to sit down. We were the only ones to lie down.
<![if !vml]>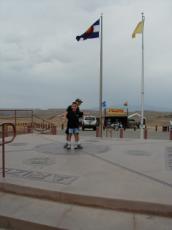 <![endif]> <![if !vml]>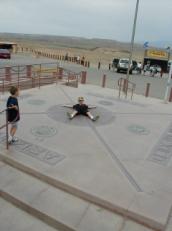 <![endif]> <![if !vml]>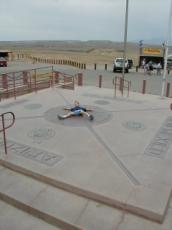 <![endif]>
<![if !supportEmptyParas]> <![endif]>
<![if !vml]>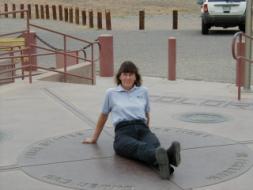 <![endif]> <![if !vml]>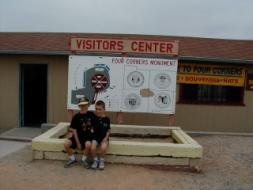 <![endif]>
In Page, we went swimming and the water was too cold for Daddy. We [Jonathan and Benjamin] got into a big fight about Towelman. [Jonathan wore his towel like a cape and called himself "Towel Man"; then Benjamin, little "me too", did the same but Jonathan kept insisting that Benjamin could not be "Towel Man" he had to be "Towel Man 2". Benjamin agreed that he was Towel Man 2, but he was just called Towel Man: this annoyed Jonathan. Man, it's tough being a kid!] Daddy had to climb over the fence to get into the pool.
+++++++++++++++++++++++++++++
Tues 8/3 (Jackie) – We went to see Antelope Canyon. Antelope Canyon is a slot canyon, which means it is very narrow. It was just amazing. We took lots and lots of pictures hoping that a few will turn out. You have to have a guide, but the tour is not too expensive. The guide told us that due to several flash floods this year (one of which he was almost caught in) the canyon floor is about 10 feet lower than last year. He gave us a graphic illustration of how sandstone is formed by pouring water onto some of the sand at the bottom of the canyon, and then showing how the water soaks into the sand and turns the previous loose grains of fine sand that would trickle through your fingers into a stiff conglomerate that, when picked up, stays together. You could just imagine how repeated soakings and drying out would compact the sand and harden it into stone. The whole tour was only about an hour and a half, and well worth it.
<![if !vml]>
<![endif]> <![if !vml]>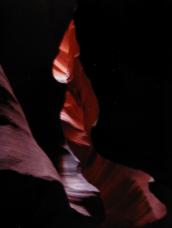 <![endif]> <![if !vml]>
<![endif]>
<![if !supportEmptyParas]> <![endif]>
<![if !vml]>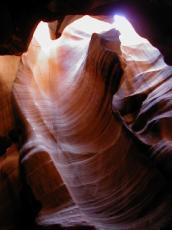 <![endif]> <![if !vml]>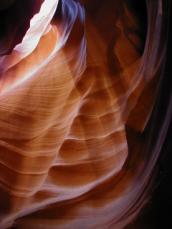 <![endif]> <![if !vml]>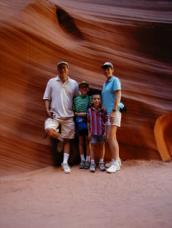 <![endif]>
Then we had lunch and went to the Glen Canyon Dam. At the visitor center, the boys had an unexpected surprise. They had a junior ranger program there. The boys immediately set about filling out their booklets. We went on the tour of the dam, and made the mistake of not bringing our cameras. I'm still annoyed at myself for that. The dam is magnificent. Someone who is afraid of heights might find looking over the edge a little spooky, though. It's a long way down (on both sides, this year, as Lake Powell is very low due to a 5-year drought.) When you look down on one side where the tubes through which the water that generates the power flows, there's a semi-circle at the base that looks like it is filled with algae. As it turns out, this semi-circle is grass planted on top of dirt that covers the tubes. We were able to take an elevator down to see the turbines that produce the hydroelectric power. After the tour, the boys took their pledge (nothing about cleaning their rooms this time) and we left for Zion. We entered Zion through the East entrance, which involves driving through a mile long tunnel. There are "windows" periodically throughout the tunnel (presumably for ventilation) but you are not allow to stop in the tunnel – too bad! It would be cool to look out. We had planned to try to stay at Zion Lodge, but we hadn't made reservations. On the way there, we realized that Springdale was only a mile south of Zion, and would be at least $50 cheaper (for each of the two nights!) So we decided to stay at the Bumbleberry Inn. By the time we checked into our room and had dinner, the visitor center was closed, so we looked at all the exhibits outside the visitor center, walked around Springdale, visited a couple of galleries, bought some pottery, and called it a night.
<![if !supportEmptyParas]> <![endif]>
Tues 8/3 (Benjamin) – Antelope Canyon was very beautiful. We learned that the colors would change at noon, and we learned about Navajo sandstone. At the Dam, we became Junior Rangers. [On the tour] first the elevator was broken and then they fixed it. We say grass in the lake. I forget everything else until we ate dinner. We learned about bumbleberries.
<![if !supportEmptyParas]> <![endif]>
Tues 8/3 (Jonathan) – And we got to stay up late watching TV [Animal Planet.]
+++++++++++++++++++++++++++++
Wed 8/4 (Jackie) – Marc started the day by trying to kill himself slipping in the bathroom. Due to his excellent reflexes, he managed to kill only his big toe. Being a man, he didn't let it interfere with our day. Zion has a Junior Ranger Explorer program that Marc and I enjoyed very much. It involves dropping the kids off, and having 2 ½ hours to yourself. We used the time to go on the Watchman Trail hike. This is an almost 3-mile, moderately strenuous hike to an overlook that we could not have done with the boys.
<![if !vml]>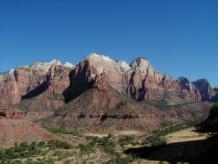 <![endif]>
After we picked them up, we had lunch and then went on a ½-mile hike to Weeping Rock. At Weeping Rock, there is a layer of shale between the layers of sandstone in the cliff face. Water soaking through the sandstone hits the shale and can't go any further down, so it goes sideways and comes out the face of the cliff. There's an alcove in the cliff underneath the shale layer, so the water rains down in front of you when you're in the alcove (and on you when you're getting into the alcove.) There was quite a lot of water raining down on us, and we wondered what it was like in May, or when the area wasn't in the 5th year of a drought. It was cool and wonderful there. Marc and I could have stayed there all afternoon.
<![if !vml]>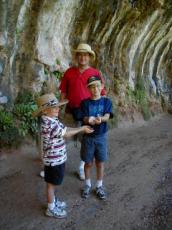 <![endif]> <![if !vml]>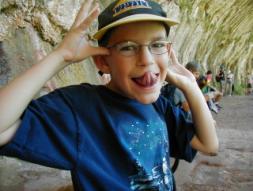 <![endif]>
<![if !supportEmptyParas]> <![endif]>
<![if !vml]>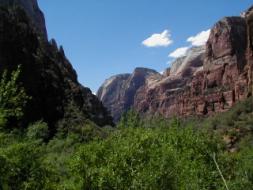 <![endif]> <![if !vml]>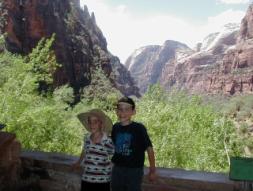 <![endif]>
After the Weeping Rock hike, we went to a Ranger talk about Wild Turkeys. The condor talk this wasn't. I think I would have liked it better if the benches hadn't been quite so uncomfortable. Then we went on the 1.2-mile hike to Lower Emerald Pool. Lower Emerald Pool was supposed to have a waterfall, but it was more like Weeping Rock than a real waterfall. Lower Emerald Pool was definitely feeling the effects of the drought. We renamed it, "Lower Emerald Puddle."
We were getting pretty tired by then, but I wanted to do one more thing before we called it a day. We went to the Court of the Patriarchs, which the bus driver had assured us was a 10-minute hike – round trip! Sure enough, it's short and sweet, with a nice view of three cliffs that are called Abraham, Isaac and Jacob. When we arrived the sun was behind a cloud. We sat down to rest a moment and the sun came out from behind the cloud, so my pictures of the cliffs didn't come out as good as if I had shot the photos right when we arrived there. Next time I'll take pictures first and rest afterwards!
<![if !vml]>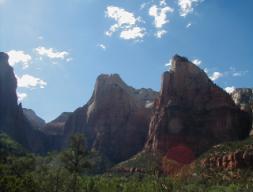 <![endif]> <![if !vml]>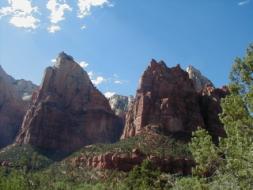 <![endif]>
We tried to pick up the patches that the boys had earned by attending the ranger talk, but it turned out the place that passes out the patches (the nature center) was closed. So, we decided to come back in the morning, and we went to dinner. Marc had elk, buffalo and beef for dinner. It's hard to do that in L.A.
<![if !supportEmptyParas]> <![endif]>
Wed 8/4 (Benjamin) – We ate breakfast. We did our first step in becoming a Junior Ranger. [Actually the first step in becoming a Junior Ranger Explorer.] I played two games. Well, I played this cougar game that you need to escape from a cougar and you need to get 3 [food] chips. I also played this kangaroo rat game where one person was a snake and the other people were kangaroo rats. If you stepped outside of a rope you became baby snakes. We went on a scavenger hunt. We found everything but a cold blooded animal. We found flowers with cup-shaped leaves and there was a plant with small hairs and leaves. We found people standing in the shade, and they are animals so we crossed it off. Juniper berries, unlike most berries, are green [Jonathan says blue] and have a waxy coating. In the award, they accidentally spelled our name "Zen." Then they spelled it correctly. Then we went on a hike to Weeping Rock with the family. We got very wet. We pretended it was "Whining Rock" and we had to leave our whines there. Then we had this wild turkey talk. We learned that they could eat insects and they could only fly for a mile. Then we became Junior Rangers. Then we went on a hike that was shorter than another hike that was 5 minutes up and 5 minutes down [He means that the second hike was shorter.] Then we had dinner and we ate ice cream. Then we watched TV and went to bed.
<![if !supportEmptyParas]> <![endif]>
Wed 8/4 (Jonathan) – I played a coyote game where one person would be in the center of the circle blindfolded with a ball and everyone would pound on the ground until the prey [person in the center] raised his or her hand. Then everyone would stop and one person would try to steal the ball without the prey catching you (pointing to you.) I was the first coyote and I stole the ball without getting caught which is the same as the coyote eating the prey. When I was playing, the coyote game, Benjamin was on a scavenger hunt and when Benjamin was playing the kangaroo rat game, I was on a hike. On the hike we saw some skunk poop and we saw some coyote gourd, a mini watermelon-shaped plant that is really sour, but coyotes like them. We saw Juniper berries. We saw these ant holes. We also saw a lizard wedged in this weird place. We saw coyote tracks. We saw someone's father and their dog. And someone came from Germany. About the turkey talk, we learned a lot of very interesting things, but it was too long and we can't write it all here. The hike to the waterfall was kinda fun, really long. We took two pictures.
<![if !vml]>
<![endif]> <![if !vml]>
<![endif]>
We came back and played pooh sticks. I won.
+++++++++++++++++++++++++++++
Thus 8/5 (Jackie) – We picked up the Junior Ranger patches that we couldn't get the day before, and then headed out of town. We went straight to Las Vegas without stopping and arrived at lunch time. We drove down the strip, pointing out the sights to the boys, parked at the Luxor and had lunch. We started walking down the strip, looking at each of the hotels and asking about the cost of a room. The cheapest room was $150 – where the hotel wasn't completely booked. After 3 hotels, the adults were getting tired, so we decided to return to the car. Marc thought that the Aladdin hadn't been doing well lately, and might have cheaper rates, so he dropped me off there, and said he'd meet me at the entrance to the parking. Well the Aladdin was full (I guess they're doing better!) and the Paris, next door, had rooms at $150, so I went to find the parking. I found the parking, but no Marc. I tried calling the cell phone, but no answer. Tried looking on a couple of other floors of the parking garage – no Marc. Tried calling again. Got him this time. Turned out that he had been on the entrance to the parking garage to the hotel, which is on the first floor, but is also valet parking, so he couldn't stay there. I had been at the entrance to the shopping area, which is the third floor. Anyway, we found each other – cell phones do have their uses. I had picked up a "Las Vegas attractions" booklet, which listed hotels and phone numbers, so I started calling. This was definitely a better way to find a room! We ended up at the Travelodge right next to Circus Circus for $58. We could have gone to the other Travelodge on the strip for $41, but I knew the kids would enjoy Circus Circus best. We rested for a while, and then headed over to Circus Circus. We looked around the arcade for a while, and then headed over to the Adventuredome, which has the rides. We bought the kids wristbands, and just hung out while they went on ride after ride. We did the Sahara buffet for dinner, back to Circus Circus for a few more rides and then called it a night.
<![if !supportEmptyParas]> <![endif]>
Thurs 8/5 (Jonathan) – We had breakfast, got our patches, went out of Zion, and I don't remember going through the mile-long tunnel [We left through the south entrance – no tunnel.] We went to Arizona and then to Nevada. After that we got to Las Vegas. We had lunch in an Egyptian pyramid after driving around a lot in the car. We had lunch at McDonalds and got these orange beanies. We looked around a lot. We looked around at New York New York and Excalibur. We ended up staying next to Circus Circus. We went into Circus Circus and looked around a bit. We saw these two people with a doll and they were putting the doll into all these weird shapes. It turned out it was really a person in a doll suit. We went to the adventure dome and we got bracelets so we would go on all these rides. I went on slingshot, where you go up with an acceleration of 4 G's and then down with an acceleration of -1 G. Benjamin didn't go on this one. Then we went on Inverter. I don't know why it's called the Inverter. We got into this seat thing and spun around. Then we went on the bumper cars. Everyone ran into us. Then I had a hot dog and Benjamin had pizza. Then we went on a water ride called Rim Runner. Then we went on Canyon Blaster, which was a roller coaster. Next we went on Laser Tag. I was hit 20 times and hit 6 people. Benjamin was hit 35 times and hit 4 people. Then I went on a ride simulator and Benjmain went on 3 rides. Benjamin says he went on a plane ride. [Benjamin says, "On the plane ride you had to pull on a stick to make it go up"] He went on a balloon ride. Benjamin forgets what his third ride was [merry-go-round]. The simulator was "Escape from Dino Island" Then we did Laser Tag again. Benjamin hit 1 person and I didn't hit anyone. I think my laser wasn't working. Then we went and had dinner. I forget where we had dinner and what I had for dinner. Oh yeah, it was at a buffet at the Sahara and I had 3 slices of pizza, but they weren't hot. We took the sky tram. Then we went back to Circus Circus and went on bumper cars again and went on Chaos. I liked Chaos so much I went on again and Benjamin went on Frog Hopper. Then we went back to the hotel and went to sleep.
+++++++++++++++++++++++++++++
Fri 8/6 (Jackie) – After breakfast we took off for L.A. arriving around 1pm. We found the dog healthy and happy to see us and no ants in the house. What more can you ask for when returning from vacation! We spent the afternoon going through mail, email, washing and relaxing.
<![if !supportEmptyParas]> <![endif]>
I hope all your vacations are as good as this one was!
Jackie
<![if !supportEmptyParas]> <![endif]>
<![if !supportEmptyParas]> <![endif]>